If you are confused about the grading process, follow this guide to ensure your package and experience is a success!
Step 1
Log in or create an account to begin the submission process.
Step 2
Visit the submission form page and select your service type (First Class, Priority, Rush, Standard & Value). Once you have selected your service type, click the "Add New Card" button and input your card details. Any discrepancies or missing information will result in longer processing times.
If you choose to submit your order manually, you will not be able to check the status of your order by logging into your account. You will experience delays due to processing and data entry procedures.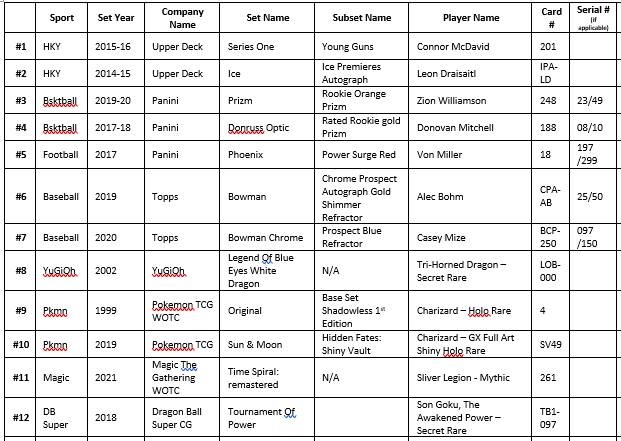 Step 3
Once your Submission Form has been completed, click the 'Proceed to Payment' button at the bottom of the page. Make sure your billing and shipping information is correct. If you have any notes please make sure they are submitted at this time.
Step 4
Once your order is marked "Processing", select "Print order" in the order details section. You will be required to submit this form with your order. You will receive an email with your order details upon completion.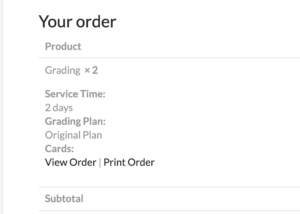 If you already checked out, don't fear! Your Submission Form is located in the "Orders" tab on your account page.
Step 5
It is now time to package your order!
Each card must be placed in a top loader and sleeve OR a card saver and sleeve. One-touches will be accepted, but will not be returned with your order. Screw down cases will not be accepted.
Do not tape cards as this will result in longer processing times.
Please make sure to place your cards in the same order as they are listed on your Submission Form. Items not submitted in the correct order will result in longer processing times.
Protect your cards with appropriate packaging materials such as bubble wrap, tissue paper, etc.
Pack your items in a sturdy cardboard box or bubble envelope. MNT Grading Inc. does not accept any responsibility should damages occur due to poor packaging.
Include your printed Submission Form
Please ship your package to the following address using Canada Post*:
MNT Grading Inc.
PO Box 10
Elmira, ON, N3B 2Z5
Canada
* Please note if you ship your package via another courier service provider (FedEx, UPS), there will be delays as they do not ship to PO Boxes.
Step 6
Congratulations you're done!
Once your package has arrived at the MNT facility you will be notified via email. You are able to monitor the status of your order by logging into your account.
If you have any suggestions and/or recommendations, please email us at [email protected] as we are always looking to improve our customer experience!