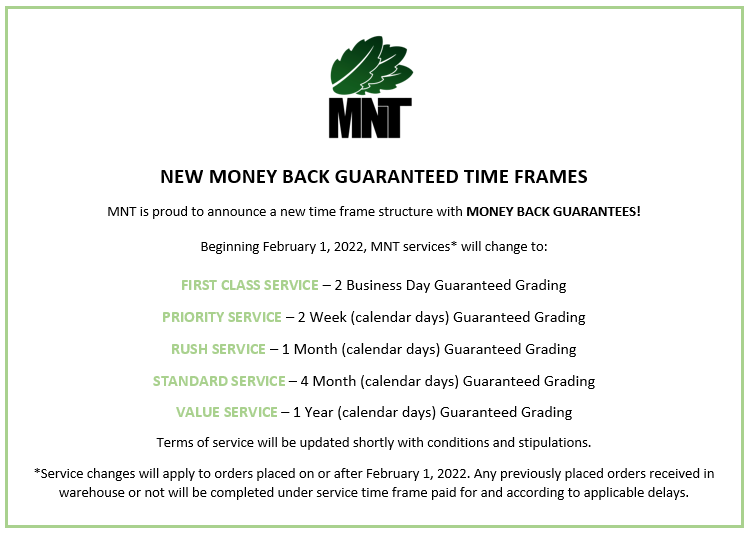 Why Choose MNT Grading
We are the Modern Choice for the modern collector, striving to go above and beyond to meet all of our customers' needs.
All of our slabs are of the Highest Quality and one of the few (if not only) made in North America ensuring peace of mind that your cards are protected and tamper proof.
Our Graders come with a wealth of Experience within the hobby industry.
They will ensure to always use Honesty, Integrity and Consistency while grading all cards submitted.
We offer the Most Competitive Prices and services to our customers for the quality we provide.
SERVICE PLAN TIME FRAME UPDATE MAY 14th 2021

We would like to thank everyone for your patience as we navigate these challenging times. As a result of the increase in demand and COVID-19 regulations, we have been working at a delay of 4-8 weeks for the past couple of months but have been working hard to catch up and minimize delays for our customers.
We are happy to announce that as of May 14th, 2021 all new orders placed on our online store* will be subject to minimized delay of 2-5 weeks (although can still be longer) on top of the service plan ordered. Orders will continue to be completed in priority sequence based on date received and service plan paid for.
We will also, going forward, be prioritizing our 2 and 6 day grading services within the delay time frame to add additional benefit to customers who opt for these premium services. This means that in our 2-5 week delay time frame, we will be aiming to keep 2 and 6 day services closer to 2 weeks.
Please note that orders submitted manually, not through our online store, will be subject to further delays as our team needs to input the order adding an additional step to the process.
We understand that everyone is eager to get their cards back and we assure you we are working as quickly and efficiently as possible given the circumstances to get everyone's orders out as quickly as possible.
We greatly appreciate the support and patience we continue to receive from all of our customers.
If you have any questions or concerns please email us at

[email protected]

.
*Current orders received in our warehouse before May 14th are still subject to the previous delays however are still a priority and will be completed ahead of new orders coming in.
Please note we are not accepting any customer drop offs or pick ups at this time.